A Truly Native Solution
Truly Native Benefits Include:
No bi-directional sync of data is ever required
Having an undisputed single source of truth for your data and reports
Seamless AccessTM to your sales engagement ecosystem and related applications
All from a single pane of glass directly within the Conquer user interface inside Salesforce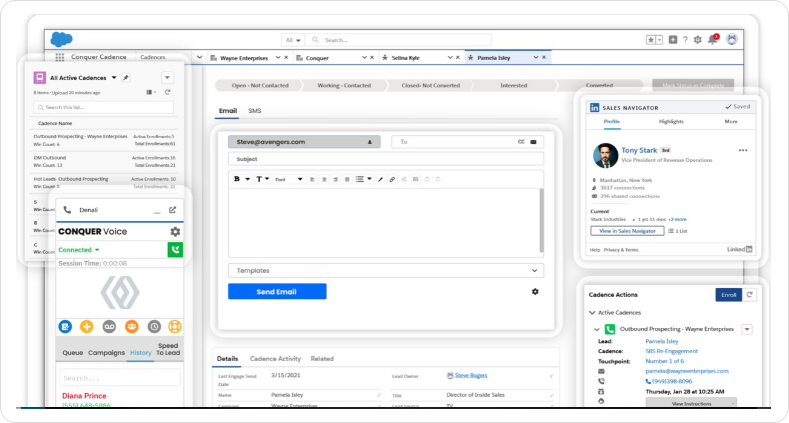 Truly Native Means
No Bi-directional Data Sync. Ever.
With Conquer Cadence, your data never leaves Salesforce, and there is no movement of customer records in or out of separate applications, which means:
Always accurate reports
Conquer's user interface is truly native right inside Salesforce – so data and reports are always accurate
Headache free for your IT and Security Teams
Imagine:
How effective would the enterprise sales process be if you could replicate guided selling best practices across your entire sales team, and automatically capture prospect and customer data directly into the CRM – in real time?
Without a data sync.
Cadence Guided Selling
Confidence in knowing who to talk to, when, how, and what to say.
Automation of Best Practices
Your whole team performs like your best salesperson, every day.
Seamless Access
All your Omnichannel needs, from one native interface.
Guaranteed Results
Your success is our success. Today and tomorrow, not just until you sign up for our service.