Sales Automation Software
Reach Buyers Faster with the Only Sales Automation Platform Native to Salesforce
Conquer's sales automation software makes selling smarter. The only Sales Automation Platform built natively inside Salesforce, Conquer helps enterprise sales teams win big by providing specifically designed sales engagement and guided selling tools, including the actionable insights needed to generate more pipeline, shorten sales cycles, and close more deals.
And because Conquer lives in and is used entirely inside Salesforce, no bi-directional sync of your customer data is ever required. All sales activities are automatically logged and represented in native Salesforce dashboards, so you always have a complete picture of your revenue generation process.
Conquer's Proven Sales Automation Tool
We can increase your pipeline revenue by 225%, meetings booked by 150%, or increase your average deal size by 3.7x.
Conquer uniquely orchestrates omnichannel communications across voice, email, SMS, video, and social channels from directly inside Salesforce. Our fully automated sales cadence software enables sellers to meet buyers through their preferred communication channel, all without ever leaving their familiar Salesforce environment.
Salesforce Sales Automation
Drive and prescribe the right sequence of sales actions and activities across your entire sales organization. Consolidate all communication channels into a single user interface in Salesforce, then replicate best practices across your entire sales team. No application switching ever required.
With our Sales Automation Platform, you can:
Save time by eliminating bi-directional data syncs from Salesforce
Streamline repetitive tasks by automating all workflows
Improve data accuracy by automatically tracking all data from every customer interaction
Reduce ramp up by leveraging your custom Salesforce fields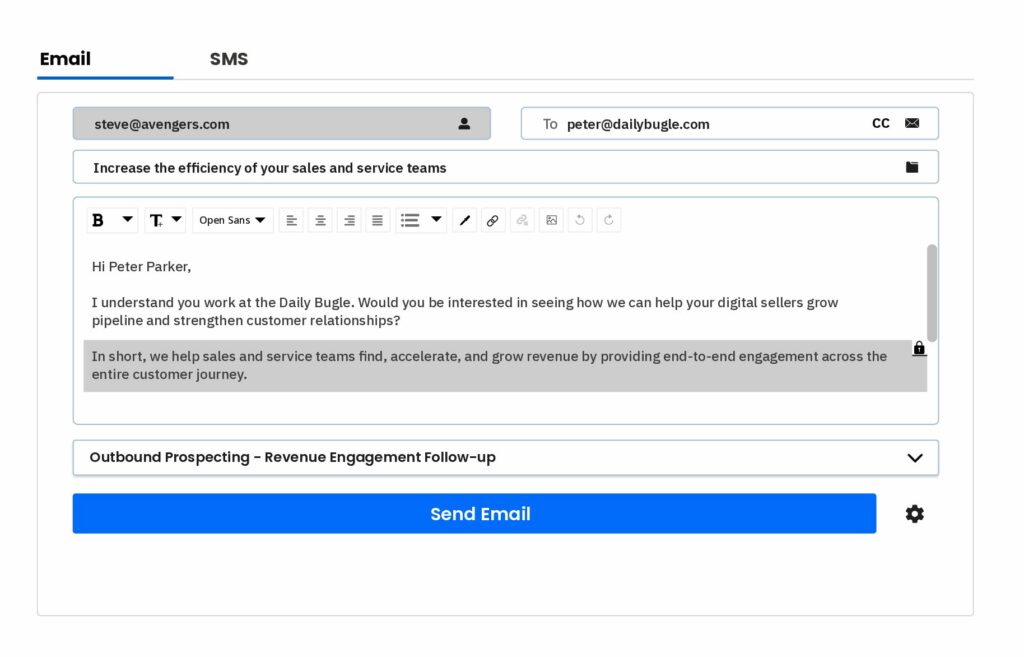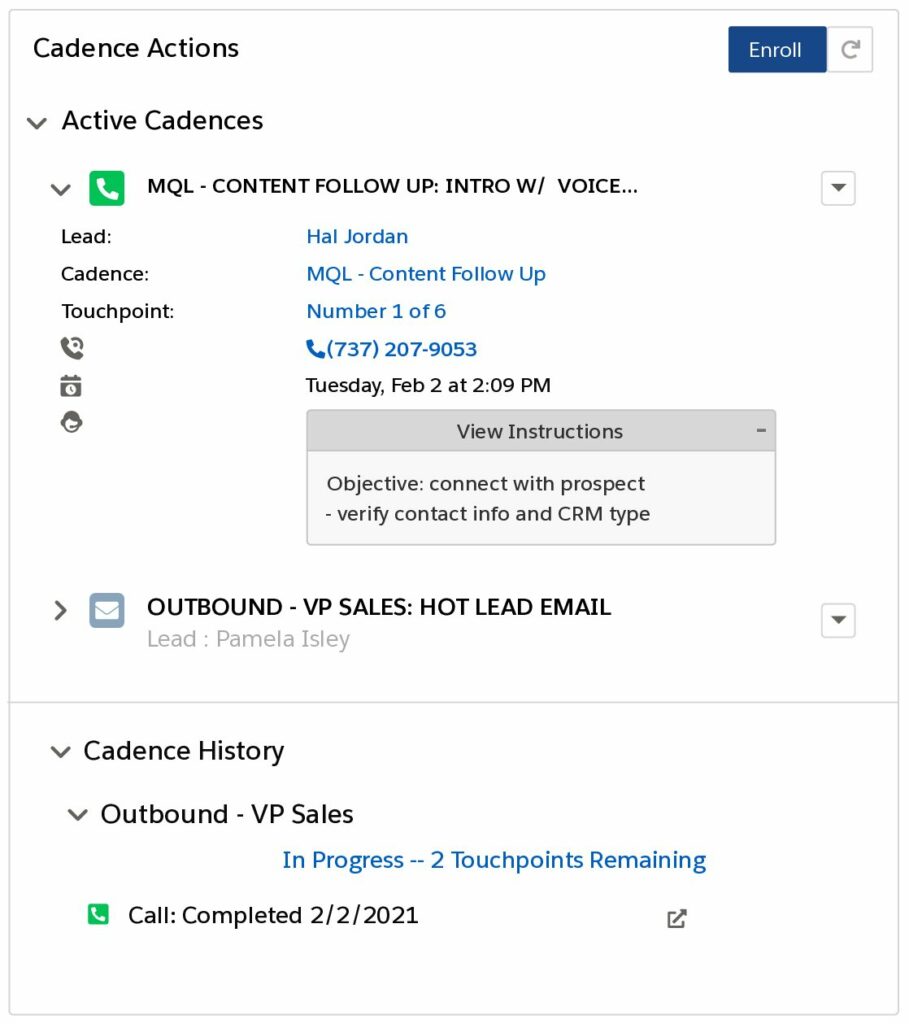 Salesforce Sales Cadence
Conquer's sales cadence tool enables you to move your leads faster into opportunities and then into buyers with proven cadences designed to reach buyers where they want to communicate. Take the guesswork out of selling with reusable templates, touchpoint instructions, and real-time battlecards so your reps always know what to do next.
Our sales cadence software eliminates all of the wasted time your team spends updating records in your Salesforce CRM. Since Conquer Cadence is uniquely native to Salesforce, all communication with customers and prospects takes place from the Conquer user interface within Salesforce.
With Conquer's sales cadence tool you can
Streamline training with one, single platform – Salesforce
Build pipeline and close deals with intelligent cadences, templates, and battlecards
Increase sales productivity with zero manual intervention required to update Salesforce
Automate triggers at critical junctions in a cadence
Keep your sales team agile with intelligent automation to log every activity
Sales Automation Tool With Flexible Configuration
Conquer works closely with you to configure Cadence to optimize for the needs of your enterprise sales team. Conquer Cadence works with the custom fields and objects already in your Salesforce platform to be flexible with your existing ecosystem configuration. Layer new workflows onto your current processes and optimize your Salesforce functionality.
Conquer Cadence's intuitive drag-and-drop flow builder enables you to easily configure and adapt your omnichannel cadences based on proven strategies to leverage the channels customers are actually using most often to communicate, so you never miss a critical conversation.
Our flexible configuration allows you to design custom implementation trigger logic to log every activity, progress leads and record notes on the record itself to inform and provide insight for future conversations.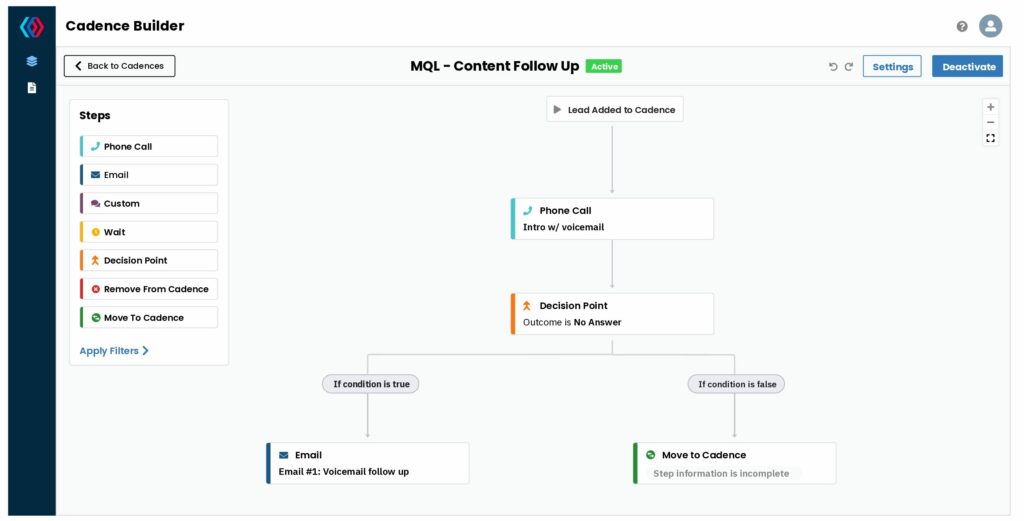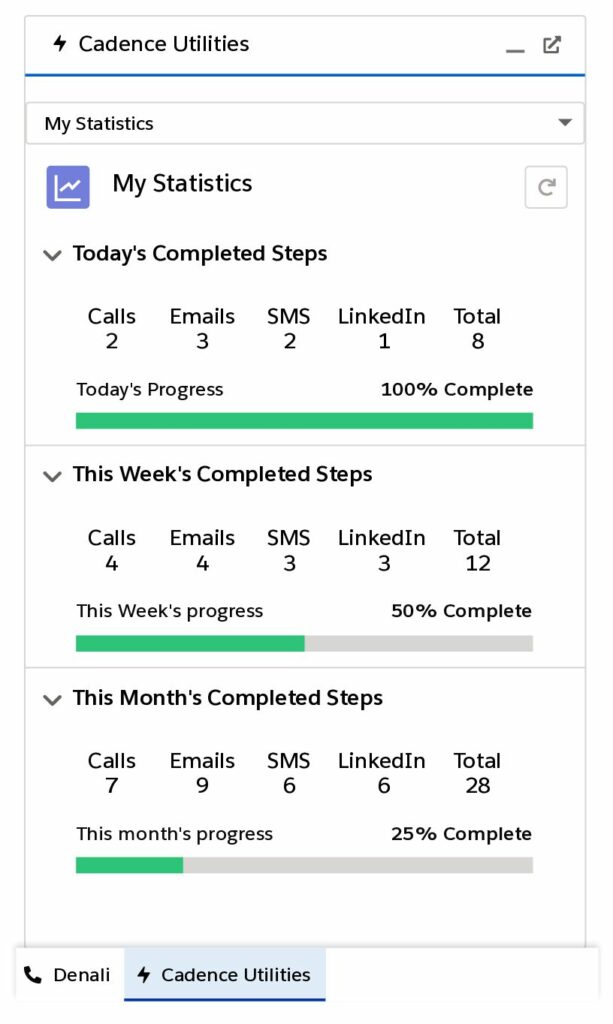 Sales Automation Platform Reporting + Analytics
Conquer is the only solution that can directly relate specific sales activities to revenue generation.
Conquer delivers a cohesive, 360 degree view of the customer to enable sales teams to:
Maximize sales effectiveness
Iterate touchpoints based on success patterns
View real-time data via on demand reporting and analytics
Only with Conquer can you eliminate frustrations caused by working with multiple and competing sources of data, then track, report, and analyze that data all in a single legitimate source of truth.
At Conquer, we deliver a consistent selling process based on data to allow your sales team to provide the information, insight, and actions that customers need, when they need it.
We help your salespeople close deals, regardless of their experience or the depth of their relationship with potential customers, giving them more time selling and driving revenue with both new and existing customers.
Interested in learning more about how a truly native SEP can keep your data accurate and your sales organization efficient? Book some time with our team here, and let's explore how Conquer can best help your sales needs.
No Results Found
The page you requested could not be found. Try refining your search, or use the navigation above to locate the post.