A little over a year ago, we announced our Series B funding and started on the path to redefining how enterprises view revenue engagement.
We started with the insight that revenue is won by teams, yet businesses are built in silos. And that engagement, not just at a prospecting level, can be planned, tracked, and optimized just like any business process.
Since then, a lot has happened. When Covid-19 shutdowns swept across the globe, our customers had to transition to work from home quickly and rapidly adopt new digital sales and service capabilities. They needed to enable thousands of workers across field sales, inside sales, and contact centers to go remote, and they needed to do it fast. They needed to engage prospects, shore up revenue opportunities, and remain open and available for their customers' ever-changing needs.
The rules of engagement have changed. Since last spring, we've seen a transformation in the way teams engage across the entire customer journey to win and grow revenue. Buyers are looking for more than products; they are looking for partners. Hundreds of sales and service teams use Conquer at every level of their organization to communicate effectively with customers and prospects. It is a foundational tool in helping them gain access, grow pipeline, win revenue, and strengthen customer relationships. We've had more in-depth conversations with CROs, VPs of Sales, Revenue Operations, and Sales Enablement leaders about how to best optimize their revenue engagement over the last six months than over the past two years.
And, there's one thing we heard time and time again.
Revenue teams need end-to-end solutions that are simple, secure, and easy to scale, now more than ever. Through this experience, it's become clear to us that meaningful revenue engagement across both sales and service relies on these two principles: context and agility.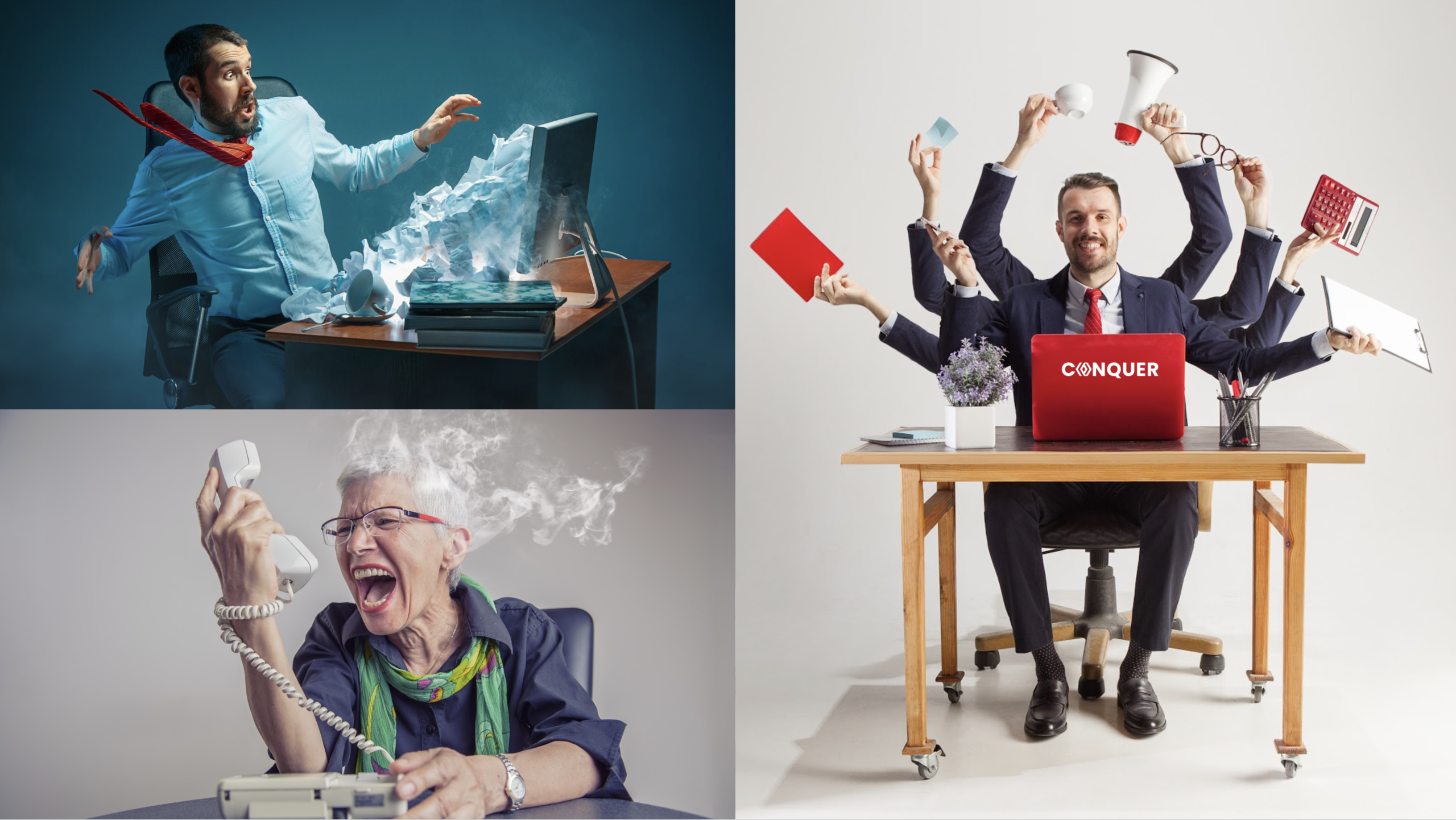 Unifying communication across two sides of the same customer experience and bringing these two ideas together was the inspiration for our new visual identity, which we're excited to share with you today.
Conquer is more than just a new name and logo. This rebrand represents our product's total transformation and a deeper understanding of what revenue teams need to conquer their day. You'll see this change reflected in our communications, our engagement and customer enablement, and in the design of our product.
Revenue is not one-dimensional. As you look at our new logo, you will notice the contrasting colors on either side and the 3D qualities of the shape. These represent two sides of the same revenue team and the interdependence of communication and collaboration between sales and service teams as they work to deliver a consistent customer experience. To win, expand, and retain customers.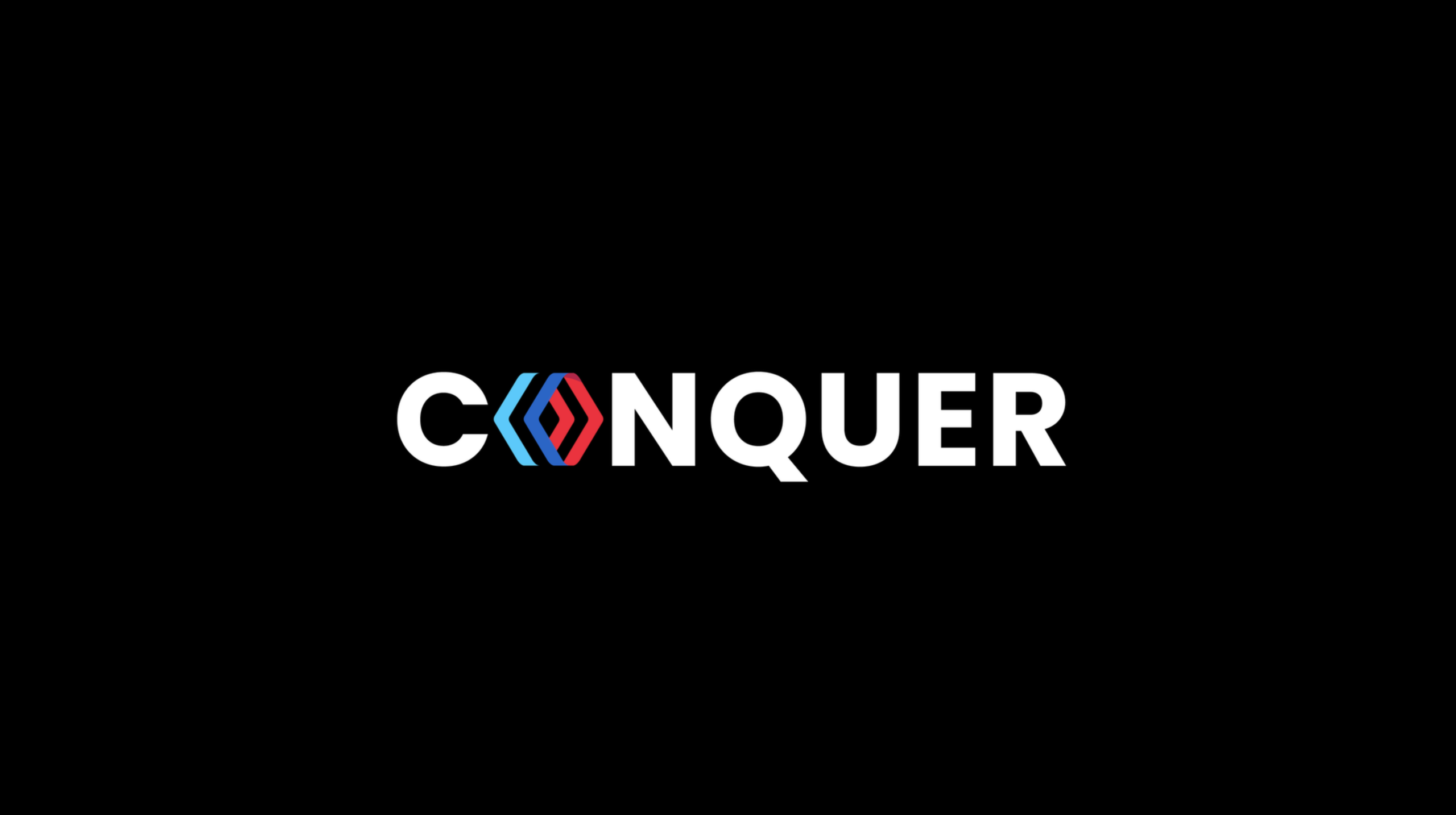 Acquiring and growing revenue is a repeatable and connected process that doesn't just end once the sale is closed-won.
Our logo represents our mission to unify the entire customer journey, so teams can be aligned on how to create the best customer experience.
We built Conquer with the mission of helping sales and service teams conquer their day. Over this year, we've come to understand that our role is to:
Simplify and enhance the human process of building business relationships.
Give sellers the context they need to position themselves as trusted advisors by illustrating a deep understanding of customer needs based on past and current engagement.
Provide modern revenue teams the tools and insights they need to be their best.
Context means understanding the circumstances that form the setting for a revenue opportunity in a way that can be understood and assessed. It's not just the message a rep is sending or a response a service agent is giving but also how they know and help prospects and customers. When should sales engage? What channels are preferred by our customers and prospects? What conversations are progressing deals forward? Where are customers running into challenges? How can we help?
Agility means establishing processes and cadences that make exceptional execution a habit, whether outbound prospecting, account management, renewals, QBRs, or inbound support inquiries. It's about guiding teams on exactly how to spend your time, when to engage, and what to say to achieve the greatest revenue impact.
In the coming months, we'll share more innovations that give you the tools to communicate across every channel. With Conquer, you'll gain context and agility to execute, measure, and optimize engagement across the entire customer experience so you and your team can take the right actions to grow revenue and strengthen relationships from inside the place your team works today—CRM.
Welcome to the Revenue Era. Let's Conquer your growth goals together.