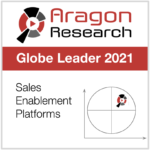 We are proud to announce Conquer's has been recognized as a Leader in the 2021 Aragon Research Globe™ for Sales Enablement Platforms. Aragon's 4th Annual Report ranks 14 major sales enablement providers based on two factors: strategic company vision and performance aligned with achieving that vision.
Within the leader segment, Conquer is also ranked 2nd highest for completeness of future strategy. We are thrilled with Aragon's acknowledgment, as it underlines our continued dedication to delivering end-to-end, simplified revenue engagement for our customers.
"With extensive scalability, native architecture, and a robust voice network, Conquer's omnichannel sales enablement capabilities position it well in the market."

– Jim Lundy, CEO, Aragon Research
The sales enablement technology category has surged in popularity over the years, driven by an increase in sales organizations pursuing their digital transformation. In the last 5 years, sales enablement adoption has increased by 343%. As Aragon Research puts it, sales enablement platforms "have become the de facto digital work hub for sales professionals."
In the fourth annual report, Aragon Research examines 14 major providers through the lens of how they best enable selling in a post-pandemic economy. More specifically, Aragon Research looks at how complete each provider's future strategy is, relative to their performance in fulfilling that strategy. Each solution is then plotted into segments for Leaders (highest performance and strategy), Innovators, Specialists, and Contenders (lowest performance and strategy).
Download the full Aragon Research Globe 2021 Report, to see Conquer's position as a leader for sales enablement platforms.
Through Aragon's evaluation process, Conquer was found to have some of the most advanced functionality for cadences and call flows, including support for inbound sales center capabilities and advanced skill-based call routing. Only Conquer delivers all the tools necessary for sales communication and engagement, supported by native architecture and living inside the Salesforce and Microsoft Dynamics 365 ecosystems.
High-performing sales teams are more than twice as likely as underachievers to use guided selling. With Conquer Guided Selling and the Conquer Cadence Utility, Conquer automatically logs the lead status and converts it to an opportunity appropriately as your interactions take place, freeing you up to prioritize further connecting with customers. Simultaneously, the system then also advances the contact to the next step in that active cadence, resulting in a well-orchestrated sales cycle for both the reps and the customers alike. Conquer helps sales engagement become a seamless process of customer interactions, automated logging, and intelligent routing, enabling sellers to focus on what they do best.
Most other sales enablement providers are focused solely on business development and sales development activities centered around gaining access to leads. But when you turn to the Account Executive or Customer Success and Service side of the house, traditionally the result is that everything breaks down. Separate platforms and datasets result in lost context and a feeling of interacting with two separate companies for the customer, causing frustration and missed opportunities. Conquer resolves this issue completely by living inside the ultimate hub, CRM, ensuring everything is in lock-step with each other, regardless of which communications channel, department, prospect, or customer is involved.
Overall, the tech stack simplicity achieved with Conquer cannot be stressed enough. No other provider is able to deliver the same feature set directly inside CRM. With Conquer, teams completely eliminate the messiness of what was previously a necessary evil in database management: separate platforms to maintain, administer, and learn, resulting in data sync issues, information silos, and lost context. All while gaining new insights about their customers and performing as an efficient, truly connected modern revenue team.
Feedback from Conquer sales users:
"This is it! This is the one interface that we've always wanted."

"Conquer easily saves me two hours a day avoiding manual tasks!"

"We've never onboarded reps as fast as we did with Conquer. It just makes huge sense. The considerations given to UX and how it layers right inside my Salesforce screen — it feels so intuitive."
"This is exactly what I've been looking for, and no one was able to show me it until Conquer."
Today's revenue teams must function as a cohesive unit, operating from the same platform and data, to deliver the seamless and connected experience that customers have come to expect. A fully native solution driven from a single source of truth, the CRM, is the best step towards true revenue engagement.
Yes, I want the full Aragon Research Globe™ Report For Sales Enablement Platforms
Download the full Aragon Research Globe 2021 Report, to see Conquer's position as a leader for sales enablement platforms.
About Aragon Research
Aragon Research is an independent research and advisory company founded in 2011 by former Gartner Lead Analyst Jim Lundy. We provide business and IT executives with the actionable insights they need to navigate technology's ever-evolving impact on business. Headquartered in Morgan Hill, CA, Aragon Research works with executives at every major level of the business and across industries to give them the tools they need to make more informed technology and strategy decisions.