It's Not About Features – Instead, Compare Conquer's Truly Native Platform Vs. Our Competition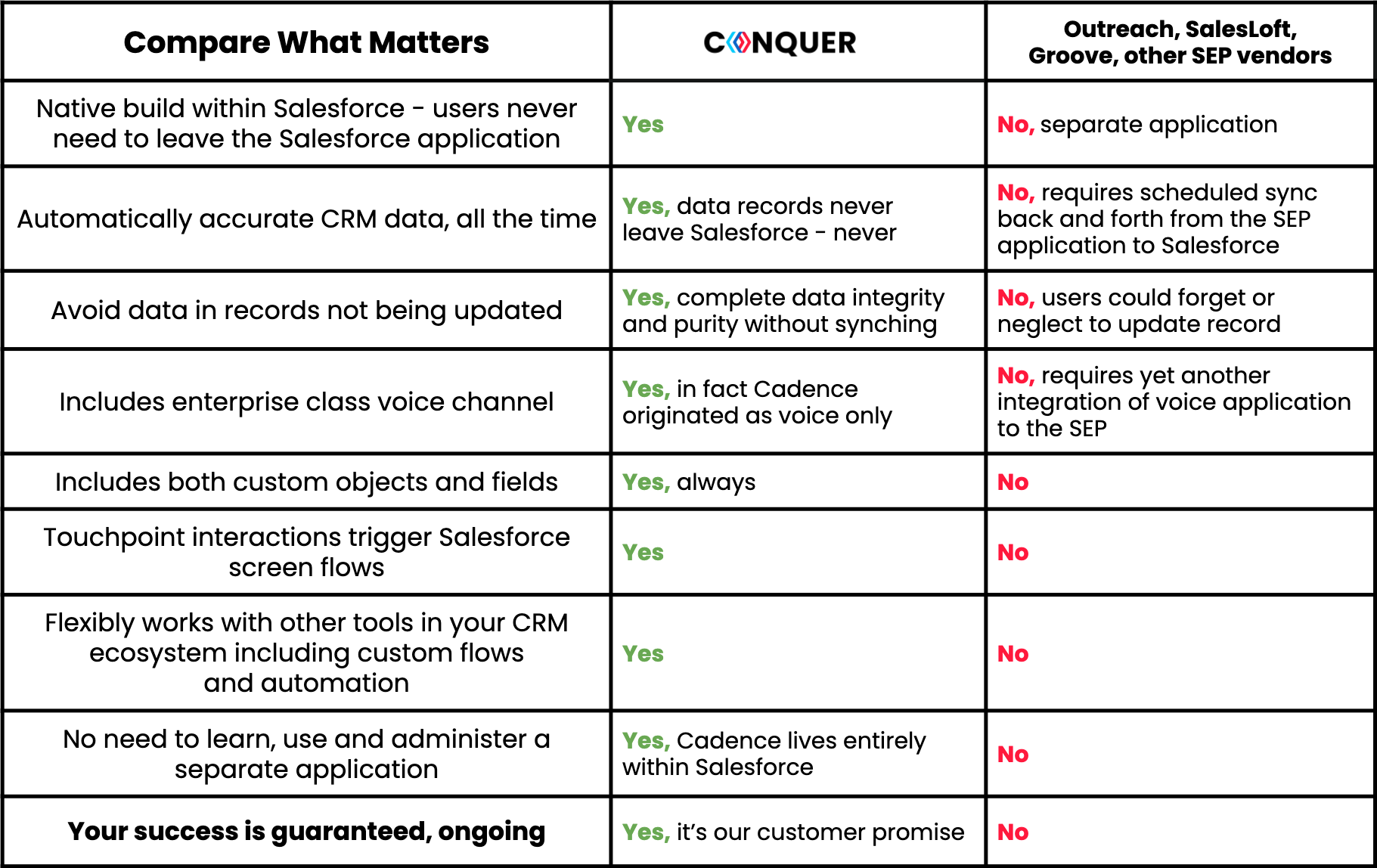 Why Enterprise Sales Teams Choose Conquer
As the only truly native Sales Engagement Platform, Conquer Cadence is the SEP of choice for enterprise organizations aiming to improve their efficiency, exceed their sales goals and clean up their sales technology stack. Conquer is focused on results, and we invest our time with you from our detailed discovery process, to helping you achieve high user adoption rates of our solution and through your ongoing performance and proof of success.
We have a history of working with enterprise clients, so we know what works and what doesn't. Before ever providing a proposal, we dive into the details of your current sales process in a joint seat ride with your sellers to uncover how Conquer is best able to help you scale your business, improve the effectiveness and productivity of your team and guide you to meet and exceed your sales goals. And only Conquer guarantees your results.
Trust
Conquer is trusted by leading enterprises and their IT and security teams not just because of how much we improve your sales results, but because we keep your data both safe and compliant. Since Conquer Cadence is the only SEP truly native and built, used and always living inside of Salesforce, your data never moves out of Salesforce or has any need to sync with Salesforce. Data in Conquer = Data in Salesforce. Always.
Other SEPs who claim to be native have to perform a bi-directional data sync with Salesforce, because they take your data OUT of Salesforce and then need to put it back in Salesforce and sync that data in an attempt to preserve accuracy. For large enterprises, moving customer data and records out of Salesforce is often not compliant, and certainly not a best practice for security. Why even take that risk? With Conquer, your data NEVER leaves Salesforce. Ever.
Flexibility
Your sales team needs a variety of channels at their disposal to move the prospect through the sales funnel and to make the sale; with Conquer, there is no need to pick and choose. You can easily orchestrate sales cadences using every omnichannel touchpoint, add in decision points, modify duration between steps, measure the results and adapt accordingly based on what's working best to drive your success. Easily design cadences and workflows how you want, using the channels that have been proven to be effective.
Simplicity
Every Conquer guided selling touchpoint is performed and each of these activities are automatically recorded into Salesforce with no effort and not a single extra keystroke: all from within the Conquer user interface inside your existing and familiar Salesforce solution. Every communication channel, every customer interaction, every report — all accessible from the same place. It couldn't get simpler than Conquer. Simplify your sales application tech stack, and completely eliminate the need to switch between separate tabs and separate applications.
Seat Ride
Conquer is fully invested in your success, both today and tomorrow. Way before you sign a contract, and before we would even provide a proposal, we'll ride along with your team to see them in action and uncover potential inefficiencies from your current sales process and environment. This informs and determines how Conquer can best fit the needs of your organization, and how we can quantify your savings in advance. Seat rides are important whether you are starting out with just Salesforce CRM or if you are already using another SEP solution.
Results
Our customers see their sales figures dramatically increase with Conquer, because our streamlined guided selling approach helps enterprise sales teams move faster and more accurately, making more sales with fewer touchpoints. Conquer Cadence works in conjunction with Salesforce automation to improve the efficiency of every member of your sales team, guiding them through each step of the buying journey. Our implementation methods ensure high rates of user adoption, and easy-to-create daily reports enable you to see your sales team's results using Conquer's guided selling methodology: shortened sales cycles and increased win percentages.
Guarantee
Your success is our success, and we stand behind what we say. We will ensure that you realize ROI on your investment with us, period. No other Sales Engagement Platform vendor besides Conquer will give you a guarantee of your results. We are truly your partner, on an ongoing basis.